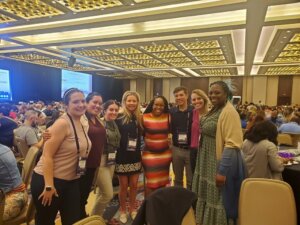 November 8 is National STEM Day, providing great timing for our next introduction to one of our all-star Opportunity 180 Leadership Development Ambassadors. Sara Boucher is a K-5 STEM teacher at William Snyder Elementary School. Throughout her career, she's been the Assistant Director for Woven Learning and Technology, received the School District Employee Making a Difference Award from CCSD and graduated as part of the Leadership Las Vegas class of 2020, among other endeavors.
As an Opportunity 180 Leadership Development Ambassador, she is on the frontlines helping to strengthen relationships within the local education community and raise awareness on related leadership development opportunities. Earlier this year, she attended the Standards Institute in Washington, DC, a five-day development experience focused on meaningful engagement with the students and community as well as how to address implicit and explicit bias in the classroom.
Now in the heart of the school year, Sara recently chatted with our team for a Q&A on the school year, as well as the opportunities and challenges ahead:
As we're now into the school year, what has you excited about the times ahead and what opportunities do you see with your work and kids?
I'm excited to be with the kids again this year. I left the classroom to work with an amazing nonprofit, but I've missed being around the kids so much. Getting to wake up and see, help and hang out with the kids is one of the best parts of my day. I've made many connections in the community and it will be good to have guests in our classroom and not have everything be virtual for the first time in a while. Outside of our school, Nevada is big and the world is big, so bringing opportunities to the kids – particularly after the last couple of years – is very important.
How can families stay involved with their kids' education?
For our school and many others, it's all about talking to the kids and being connected to the teachers. We use Class Dojo, use paper fliers, sometimes Facebook, Instagram… we try to connect with families wherever possible. When it comes to technology, we're trying to meet them where they're at. I want them to be able to be connected.
Similarly, how about community members – how can they support our kids' endeavors locally?
If you want to help out, reach out to teachers or a member of a school and say, "Hey, I want to help." They should reach out, be it for fundraisers, Nevada Reading Week or to help with another initiative. Teachers have so much going on that sometimes we can't always do the reaching out. When people do the reaching out, it makes our jobs so much easier and it is very welcome. Nevada Reading Week is a great mechanism for drawing people in and getting them involved, I must say.
What has you excited to be an Opportunity 180 Leadership Development Ambassador?
I am super-excited to bring awareness about what Opportunity 180 does in terms of its workshops, fellowships and other development programs. Also, just connecting with other educators and people in the educational space is invaluable in terms of how we can make Las Vegas stronger as a community and show up for kids.
Stay tuned for more insights from our Leadership Development Ambassadors as the school year continues and they continue to show up for students, aspiring education leaders, and families.