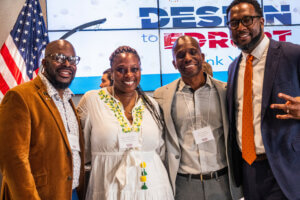 Akiko-Ayalla Cooks is one of Opportunity 180's Leadership Development Ambassadors – local education professionals helping to inspire students and engage families, strengthen relationships with the local education community, and raise awareness on leadership development opportunities to aspiring school leaders.
She has firsthand knowledge of what it takes to build and sustain organizations: she is the founder of Liberated Minds Micro Academy of Excellence, a proposed school that will serve grades six through eight. She also co-founded NO Racism in Schools #1865, an organization bolstering community voices in conversations with school districts, charter schools and other stakeholders to ultimately address long-simmering, systemic racism.
As part of her role as an Opportunity 180 Leadership Development Ambassador, Akiko recently attended the Standards Institute in Washington, DC, a five-day development experience focused on meaningful engagement with the students and community as well as how to address implicit and explicit bias in the classroom.
Entering the school year, Akiko is ready for the opportunities and challenges ahead. She recently chatted with our team to share her thoughts:
What has you excited for this school year and what opportunities do you see ahead?
Akiko: It's exciting to see students become leaders – we have some real change makers in our community who take ownership and grow from their own experiences. We also have new charter schools going up with new specialties, different organizations that are blooming and educational leaders that are becoming stronger.
What takeaways from the Standards Institute are you bringing with you as the school year begins?
Akiko: The Standards Institute was such an interesting and empowering experience for me in that it's very focused on systemic racism. And not just glancing over it but leaning into it and seeing all the different districts around the country addressing it. I also loved that there were so many black male administrators represented, particularly when only 2% of teachers are black males.
It was all about identifying the disparity in education and how we can all be better educators. And sometimes that involves undoing, unlearning, and relearning how we see certain things.
How can families stay involved with their student's education this year and how would you encourage community members to engage and support students?
Akiko: For families, it's all about showing up and communicating with teachers… and not just showing up when a student is in trouble but being intentional with educators every step of the way. Kids spend more time at school than they do at home, so to be present and in communication about such a large part of a child's life is important. We also all need to listen to kids when they say if something wasn't fair – in so many instances, they have the right to challenge something or disagree with a teacher. It's not just a hierarchy of "I'm right and you're wrong" when it comes to listening to them. We need to listen and be open minded.
In the community, there are so many organizations devoted to good things – life coaching, charter schools and more. It's about being at community events, supporting students and teachers, knowing who your trustee is in the school district and standing up when you have questions or concerns. Again, it's all about showing up.
Stay tuned for more perspectives and insights from our Leadership Development Ambassadors as the school year continues, and they continue to show up for students, aspiring education leaders, and families.