Opportunity 180 has launched applications for the second cohort of its Design to Edrupt (ODE) Fellowship, to begin January 2023. The fellowship looks to disrupt the current education landscape and ensure every kid graduates college and career ready by identifying and supporting a diverse pipeline of leaders to design and launch tomorrow's learning environments. These learning environments are applicable in both district and charter schools.
During the Explore phase of the Design to Edrupt fellowship, participants assess, explore, and develop their leadership readiness to design and launch a new learning environment, like a new school or program, co-create their vision for education alongside students and families, and explore multiple pathways and strategies to launch their idea.
"Opportunity 180's Designed to Edrupt was the catalyst that shifted my thinking of leadership and entrepreneurship. I left Explore with greater capacity to fulfill my role as a school leader," said Cesserly Rice, a member of the first cohort. "I have also developed a stronger drive and tools to launch a program for impact in education. It was truly time well spent."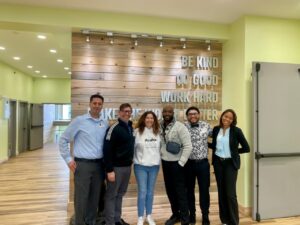 The successful fellowship strategy was originally designed and launched in Denver, Colorado in 2017 by Moonshot edVentures. Over the last five years, Moonshot has supported nearly 100 leaders through five cohorts, with >85% identifying as people of color and >65% identifying as women or non-binary. About half of their fellows are currently founders, executive directors, or school leaders. O180 was selected by Moonshot to adapt the successful fellowship to specifically serve Clark County in addressing the deep disparity between the student population and the teachers and leaders that are present in our schools. Its first cohort of five diverse leaders presented their program and school concepts at the conclusion of the experience in May 2022 (learn more about them here!).
Through a variety of workshops with education leaders and experts, information sessions that explore both professional and personal development, a national school visit, and the program's Showcase event to community leaders and stakeholders, fellows gain deep understanding of themselves and their goals, strategies, and plans for launching their school or program.
"The fellowship not only exposed me to other change-minded professionals with a passion for improving education, but it also introduced me to entrepreneurs and experts who have either done the work themselves or who have helped others who have," said Mike Taack, another alumnus of the first cohort. "If you are serious about getting the tools and experiences needed to start (or continue) down the path of starting a charter school or an educational program, this is an opportunity that you cannot afford to miss."
The fellowship seeks applicants who demonstrate:
New ideas and unique ways to improve outcomes for students and families.
A deep belief in the power of community, family, student, and teacher input to co-create a learning environment.
Cultural competency, including a sense of commitment to anti-racism, unpacking bias, developing a vision with integrity, and creating the systems that improve learning outcomes for underserved communities.
"With over 20 years of classroom teaching experience, I have had the opportunity to participate in numerous professional development activities over the years. But none have been as impactful on my growth, professionally and personally, as the Design to Edrupt Fellowship," said Dr. Jeff Hinton, an alumnus of the first cohort. "It wasn't always easy, but it was always worth it."
Want to learn more?
Applications open September 1, so be sure to check the website for updated information on application instructions and a direct link to the application once live. The priority application deadline is September 30, 2022, with the final deadline being October 14, 2022. The program begins in January 2023.
If you know someone who would be a great candidate for this fellowship, click here to complete the referral form. Those who refer candidates who are accepted into the first phase of the application stage will receive a gift card!
Individuals interested in learning more are encouraged to attend an information session. Click here to RSVP.
Thursday, September 8, 2022 – 4:00 – 5:00 p.m. (Virtual)
Tuesday, September 20, 2022 – 5:00 – 6:30 p.m. (In-person, at Opportunity 180's offices – 732 S. 6th St., Ste. 200D, Las Vegas, NV 89101)
Thursday, October 6, 2022 – 5:00 – 6:00 p.m. (Virtual)