The Ed-Watch series is designed to increase access to information on what decisions
are being made regarding public education in Clark County and Nevada.
Clark County School District Board of Trustees 
What is the Board of Trustees & what are they responsible for? The CCSD Trustees are publicly elected decision-makers for the school district. They are responsible for providing oversight to the Superintendent and establishing District-wide policy. Trustees are accountable to work with their communities to improve student achievement.
Click here to learn more and see a list of current Trustees
Click here to find your Trustee District
How often does the Board of Trustees meet? Trustees meet twice per month (second and fourth Thursdays) at 5 pm both virtually and at the Edward A. Greer Education Center Board Room (2832 E Flamingo Rd, Las Vegas, NV 89121).
Click here for a full list of Trustees meetings and agendas
Click here to visit Hope For Nevada's #NVEd Calendar
Can community members engage at Trustee meetings? Decision-making bodies benefit greatly from hearing public input and multiple perspectives. Currently, members of the public can submit comments on agenda and non-agenda items through email or voice recording. Public comment can be provided in person, via email, or via voice recording. Email comments should be submitted to Boardmtgcomments@nv.ccsd.net. To submit a voice recording on items listed on the meeting agenda, call 702-799-1166. Voice recorded public comment is limited to 1 minute 30 seconds.
---
Thursday, April 28, 2022
Clark County School District Board of Trustees Meeting
Click here to see the meeting agenda and the addendum to the meeting agenda.
Watch the meeting playback on Facebook or CCSD EduVision.
What happened at this meeting?
Public Comment #1 on Non-Agenda Items
Members of the public shared comments regarding: 
Student safety
Restorative justice in schools
Teacher pay and retention
Recent incidents of school violence and harassment
Proposed start time revisions for high schools
Student discipline measures
Trustees Approved the Consent Agenda (5-2)
Consent Agenda Highlights:
Members of the public provided comments on student expulsions, contract awards, recommendations of the Sex Education Advisory Committee, Distance Education program renewal, non-renewal of probationary unified and licensed contracts, critical labor shortages, the Magnet Schools Assistance Program, and a right-of-entry item for NV Energy at Western High School.
Trustees Conducted a Public Hearing on and Approved a New Memorandum of Agreement between CCSD and the Clark County Association of School Administrators and Professional-Technical Employees Regarding Extra-Pay for a 12-Month Administrator with Additional Responsibilities (7-0)
Trustees conducted a public hearing on and approved a new Memorandum of Agreement regarding extra-pay for a 12-month administrator to be on-call for CCSD's Connection Line support program from April 2 – August 7, 2022. This Memorandum allows the extra pay of $1,762.88.
Explore the Memorandum of Agreement and fiscal impacts of the Memorandum.
Trustees Heard an Update on Elementary and Secondary School Emergency Relief Funds (ESSER) III
Staff presented an update on federal funding relief allocated to CCSD under the American Rescue Plan Act of 2021. ESSER III funds were enacted in March 2021 in the amount of $777,849,496 for continued pandemic relief and recovery. Staff reported that it is on time regarding implementation and plan refresh. Spending priorities have been summarized below, and additional details regarding priority areas, related budgets, and success metrics were shared on student success; teachers, principals, and staff; COVID-19 mitigation and other costs; balanced governance and leadership; and parent and community support.
Explore the presentation.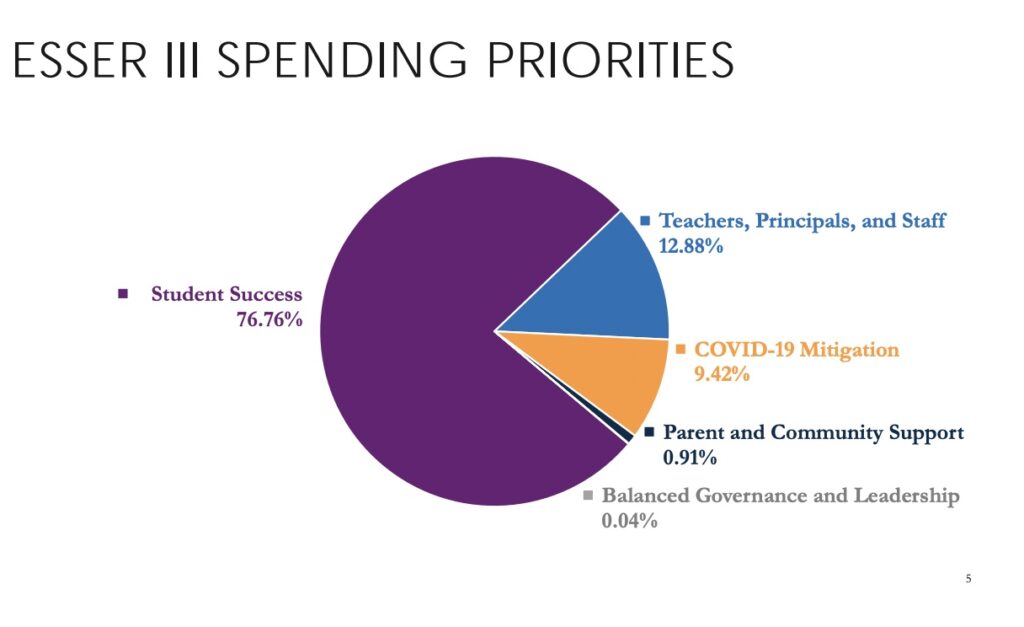 Trustees Discussed the Implementation of the Reorganization of CCSD and Compliance with NRS 388G and Passed a Motion to Establish an AB 469 Subcommittee (5-2)

Trustees discussed possible action regarding the implementation of reorganizing CCSD and compliance with NRS 388G, after the most recent Nevada Board of Education meeting, where language revisions were moved forward to a workshop period.

Trustees discussed ideas to bring the district into compliance and align with these changes as they progress. A suggestion to form a board subcommittee to monitor compliance was brought forward, including discussion on possible composition of that committee, increasing transparency and communication regarding compliance, and ensuring the public has an opportunity to provide feedback to the subcommittee and Board.

The Board passed a motion forming the subcommittee to review AB 469 implementation and ensure any new district policies relating to AB 469 either meet or exceed the conditions and terms of AB 469, noting that any proposed policies must come to the full Board for adoption.

Explore the proposed NRS and NAC language revisions as presented at the April 21 Nevada State Board of Education meeting.
Public Comment #2 on Non-Agenda Items
Members of the public shared comments on this item regarding: 
Autism awareness
Special education
Student and school safety
School board etiquette
The next Meeting of the Board of Trustees is scheduled for May 12, 2022 @ 5pm. 
Sign up to receive a notification when a new Ed-Watch post is published